1933 - '42, Ingersoll
1933 / '37 ; Ingersoll first serie.
These watches had a 30 mm diameter and were offered with bracelet or leather strap.
#1) 1933 Chicago Fair very first Ingersoll Mickey Mouse. Peculiar case with wire lugs and art deco' decoration on the bezel. Rare original first dial with 'equivalent' numbers 5 and 7. First box design issued only with the first watch.
Guarantee. (Cost was $ 3.25)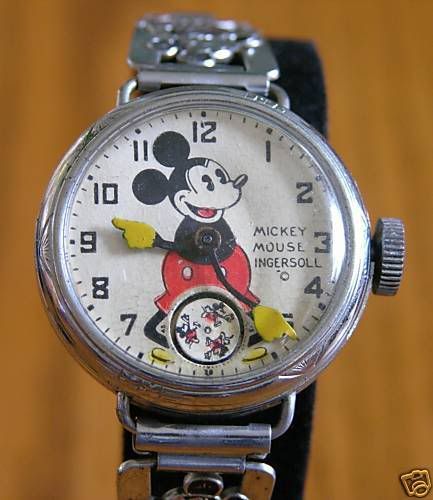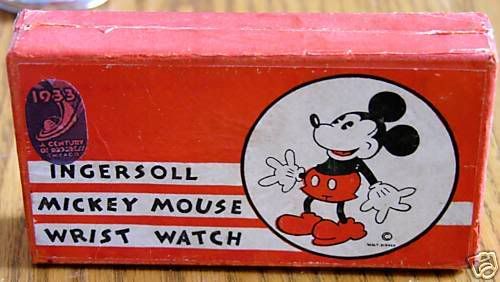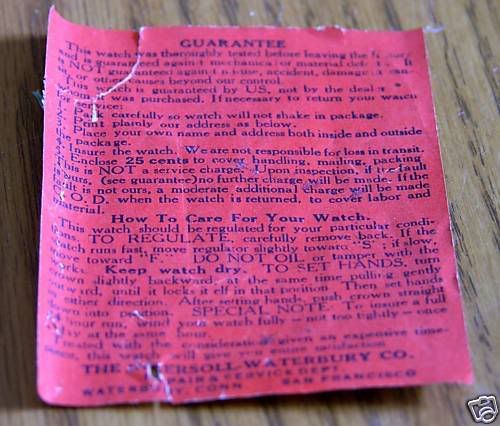 Pics by I_moon_star
Chicago Fair strap version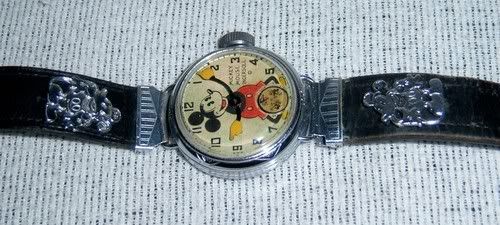 Pic by Disneyana Collectibles 4U
#2) Late '33 Ingersoll. Case modified to spring bars, bezel not decorated anymore, same rare dial as nr.1.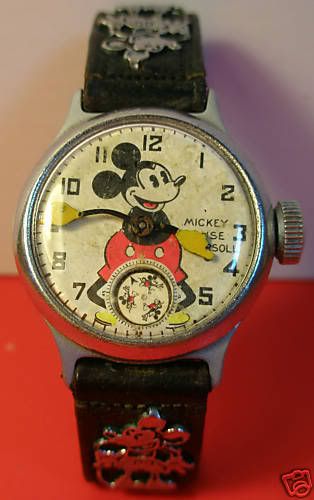 Pic from mrcplnn (mickeymousewatches.co.uk)
#3) '34 / '35 Ingersoll Mite de Luxe. Spring bars case, second type of dial with numerlas 5 and 7 smaller and fitted under Mickey's knees. Second type of box red 'critter'. (At this time watch tag was reduced to $ 2.95)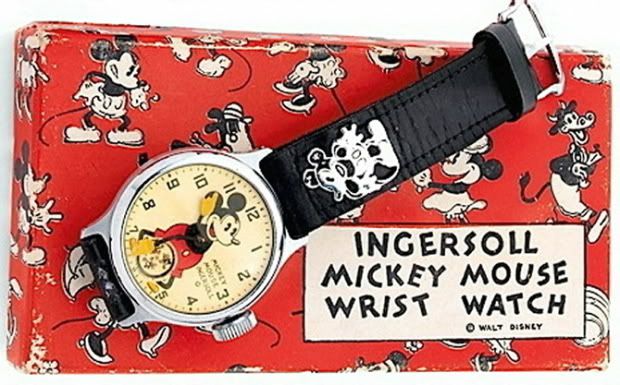 Pics from s.v.v.artcurial (up) and Craigs0000 (bottom)
#4) Late '35 / '36 and '37 Ingersoll. Only modification by the earlier model is the additional print 'made in u.s.a.' on the dial. Larger blue new box.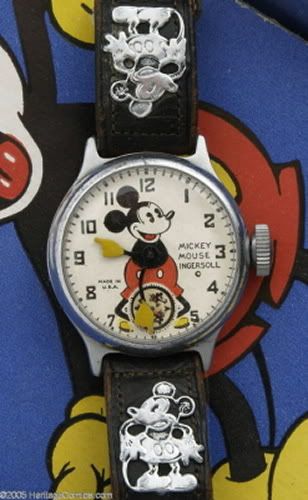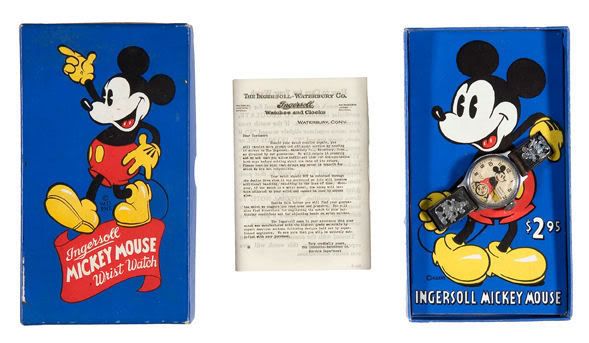 Pics from Heritage Auction Galleries (up) and Hake's Americana (bottom)
#5) Nearly '35 (I guess) "made in the u.s.a." wire lugs, decorated bezel.
Interesting, the only example appeared so far. It's even hard to be sure the case is original, but I think so.
The seller obtained it from the original owner and say it was in a catalog many years ago.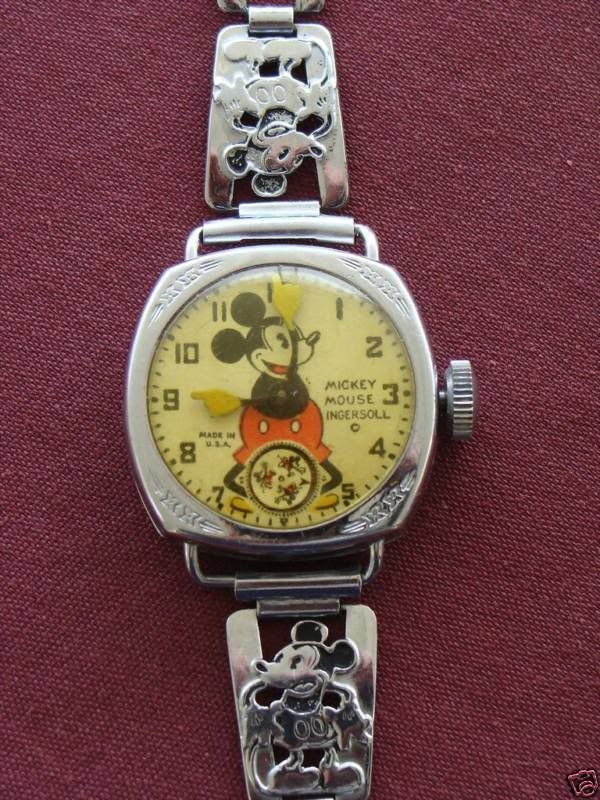 (pic from Jewelsbag)
#6) Absolutely unusual 1935 Ingersoll 39 mm wide. Maybe a prototype, I think it's real and not recased.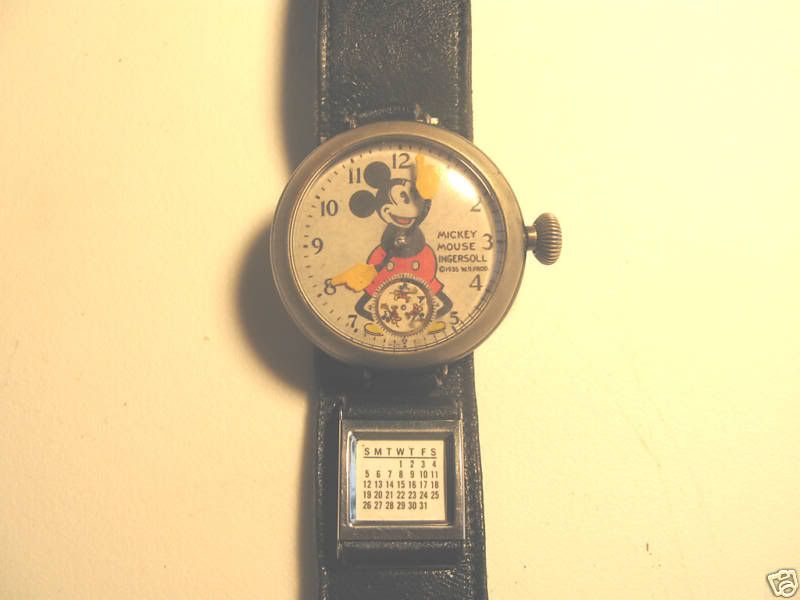 pic from xanaduxyz
All watches of the first serie were powered by the Ingersoll hand winding pin lever caliber ; these movements dates from around 1914.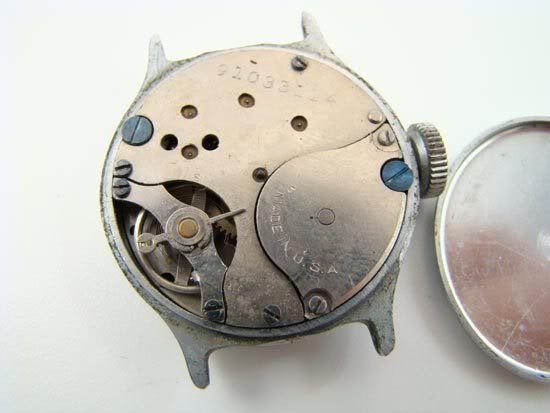 (Apolog., I missed the source of the pic).
English Ingersoll Mickey Mouse
In 1934 and '36 two type of very rare Ingersoll Mickey Mouse watches were produced by Ingersoll Ltd. of London for the British market.
#7) 1934 'Baloon Trousers Mickey', 1st English Ingersoll
As shown by an advertising found at mickeymousewatches.co.uk, original cost of this watch was 15 old shilling, extremely expansive for the time.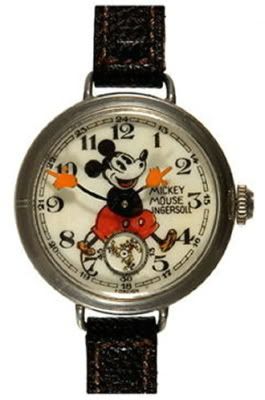 Courtesy of Hake's Americana
#8) 1936, 2nd English Ingersoll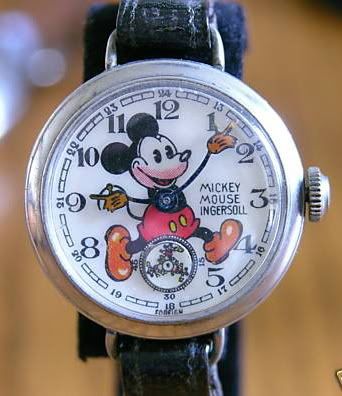 Pic from I_moon_star
1937 / '42 Ingersoll rectangular cases.
From 1937 Ingersoll modified their Mickey Mouse watches introducing several type of rectangular cases in art deco' style.
Instead the original three small Mickeys, the small seconds display had a common tiny hand.
#9) 1937 Ingersoll tank case in original red cream box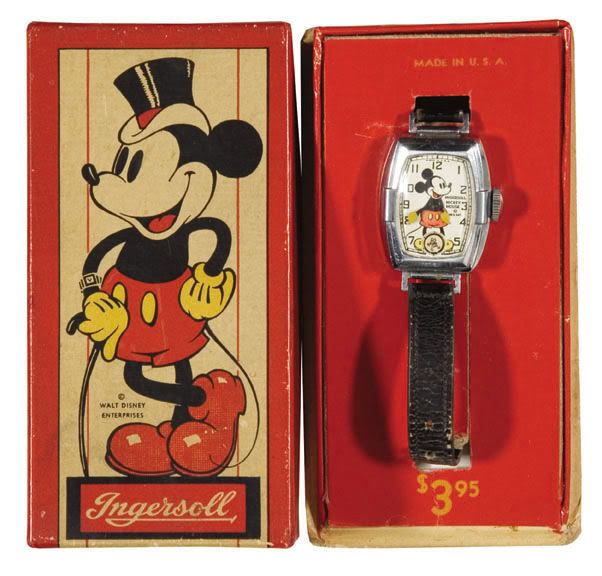 #10) 1938 to '42 Ingersoll 'five notches' case. Original reissued blue box.
(Note : this is the Ingersoll worn by the character Pink - Bob Geldof - in the movie The Wall, A. Parker, 1982)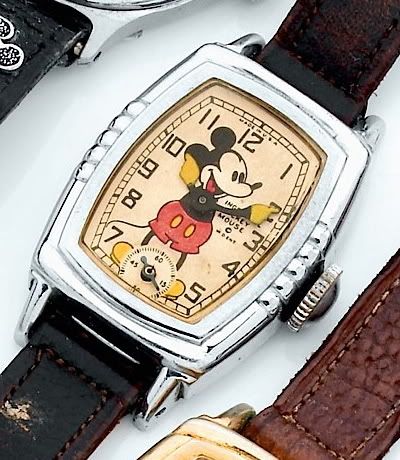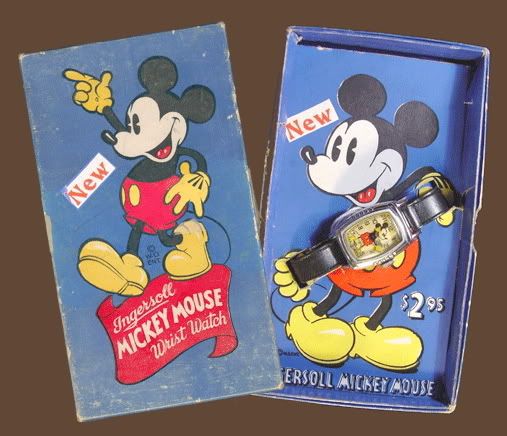 Pics from s.v.v.artcurial (up) and mickeymousewatches.co.uk (bottom)
#11) 1939 / '42 Ingersoll 'five notches' gold electroplated case. Peculiar box packaging.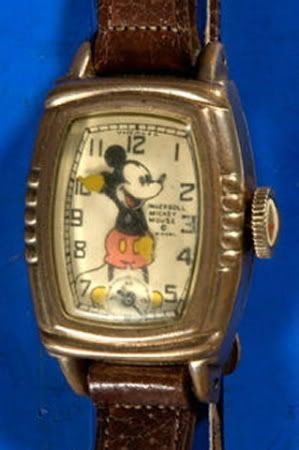 Both pics courtesy of Hake's Americana
#12) 1939 / '41 Ingersoll 'rolled' case, 10k gold plated, powered by a peculiar 7 jeweles movement.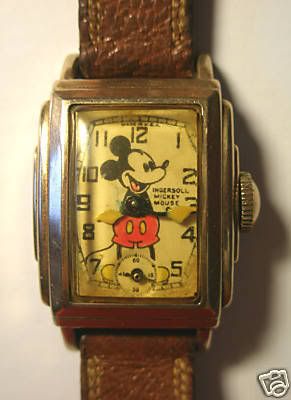 Pic from mickeymousewatches.co.uk
#13) 1939 / '41 Ingersoll 'curve', same shape contruction of the rolled case but brass chromed, standard pin lever Ingersoll movement.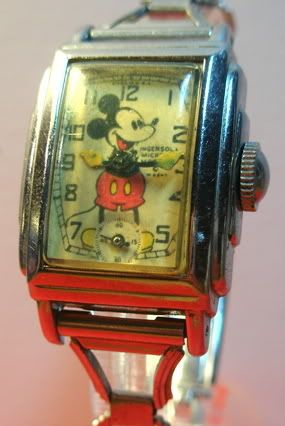 Pic from Mickeymousewatches.co.uk
#14) 1942, Ingersoll last pre war, plain case.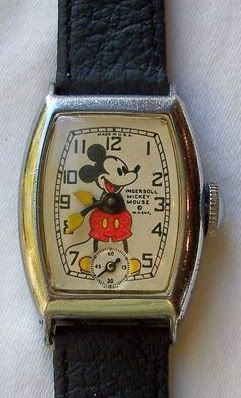 Pic from Disneyana Vintage Collectibles 4U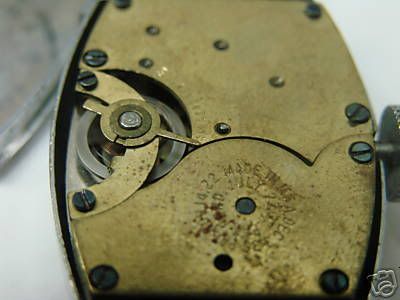 The standard pin lever hand winding movements used by 1937 to '42 in rectangular Mickey Mouse watches. Pic from Moneymaker256
It's reknown that in 1933 Ingersoll was struggling to keep afloat and probably the arrival and the arrival of Mickey Mouse saved them by bankrupt.
But in the late '30s, when the sale of the Mickey Mouse watches declined a bit, problems resurfaced.
In 1942 was Thomas Olsen to step in : the Norvegian shipping magnate, who escaped the Nazi occupation moving in the United States, bought the majority of Ingersoll's shares, bringing vital oxygen to the company.
By 1943 the company's name changed from Ingersoll Waterbury Clock Company to Unites States Corporation, better known just as US Time